Aseprite2Unity
Aseprite2Unity
Last updated Dec 1st, 2019. Online documentation available at Read the Docs.
Aseprite2Unity is a collection of C# Unity scripts that can automatically import Aseprite files directly into your Unity projects.
Like all my tools, Aseprite2Unity is meant to be simple to use: Simply save your *.ase or *.aseprite files into your Unity project. The scripts will import sprites and animation clips for you and create a prefab for you to place into your Unity scenes. That's it.
This tool is available using the pay-what-you-want-even-free model. However, donations (or a kind word) are always appreciated.

Note: Aseprite2Unity requires Unity 2018.3 or later.
(Aseprite is copyright 2019 David Capello)
Download
Click download now to get access to the following files:
Aseprite2Unity.1.1.2.unitypackage
42 kB
Aseprite2Unity.1.1.1.unitypackage
42 kB
Comments
Log in with itch.io to leave a comment.
Thanks for the neat tool! It's really easy to drop in and use in my projects. However, there's this thing where if I rename an Aseprite file, like for example Table.ase, the Table.ase GameObjects in the scene have their positions reset all to 0 which is a little annoying. Is there any way possible you could fix it? That'd be awesome.
The key of this tool is that you just have to save the Aseprite file to instantly see changes ingame. It's awesome.
That being said, after toying with it, I'm missing a couple features, and I would like to share it with you to see your thoughts:

Export extra info for each frame: For example, using a slice I set on a different position each frame on Aseprite, and then being able to get that position coordinates ingame (maybe using Animation Events) to attach another sprite to that position (like a weapon).

An option that, if it's enabled and you have an Animator Controller attached, automatically creates one State for each animation, with the same name and each animation attached.
That's all. Thanks a lot for creating these amazing tools, and keep up the great work!
Hi there, Davitsu. Could you send me an example file containing the moving slice? I just want to make sure I'm understanding slices and how people may use them. Thanks. (email: sean@seanba.com)
Hey Sean, I sent you an email with all the information.
Thanks for considering these features!
THANK YOU. I got Aseprite and was upset when I exported a .png into unity and it looked like a bug smeared on a window. 12/10 you're the real mvp
lol, thanks for your encouraging comment.

BTW, the PNG you imported into Unity was probably using bilinear sampling and/or was using some form of compression. Unity likes to import textures that way be default which is bad news for us pixel-perfect kind of developers. If you ever find yourself in that situation again check these settings in the texture importer and hit 'Apply':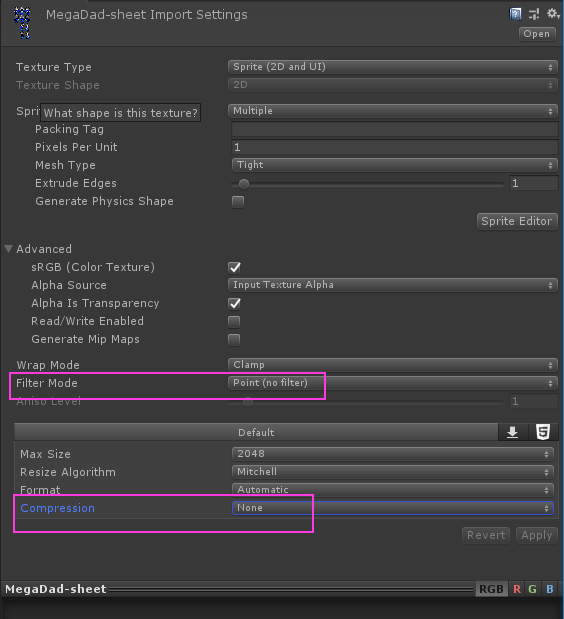 This free plugin is real Awesome!
but the Aseprite itself is bad. expensive! not free!! don't buy if you have no commitment about Aseprite.
And what an irony that Aseprite Official website itself has .org domain which means non-profit. but expect you to buy to be able to save file. ew! that's profit!!
I love this plugin and others from you.
but I hate not zero cost tools. like Aseprite one.
Thanks mate for this helpful tool, wish you the best of luck!
Hi. Sorry for the late reply. You are welcome. It's indispensable. I find myself using it all the time. I just extended the expiration date on it.

I have a very complex aseprite file that I hand export for unity. Its a character doll that has dozens of layers for different pieces of equipment/hair. Will this be helpful to me?
Hi there, @lunarsignals. It should work. Any number of layers is supported as well as all the blending modes between them. However, it's always possible that users are trying to do something I haven't accounted for. If that's your case then report a bug to my github issues page and send me your file. I'll try my best to resolve any issues.